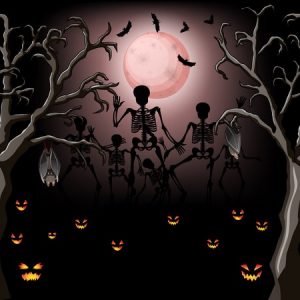 It's October, and the season's frightful spirit of Halloween is starting to make itself known, especially in the world of managed IT services in San Diego. When one thinks of Halloween, there are bound to be skeletons on the mind, and where they may hide. Skeletons in the closet? Highly likely. Skeletons rising from the grave? Quite possibly. IT services revealing themselves as skeletons? What? How frightful!
There are bound to be tales of skeletons coming out of the closet to spook unaware people, but there are also tales of IT services in San Diego skeletons scaring their business partners!
Watch out for 'Skeleton-Like' MSPs!
A typical story of a business cowering from a skeleton MSP goes like this: A business locates and contacts a managed IT services provider in San Diego. Everything thing seems well and dandy, and business sails quite smoothly. The IT service provider seemed like it would provide excellent value and would cover everything you could possibly need for your business, be it cloud services, or VOIP. It all seemed perfect.
Too perfect.
Then the time came — after the business had signed the contract with the MSP in San Diego — they realized and learned that the IT service provider could not cover anything substantially and was essentially a skeleton! The business was terribly frightened!
The terrible downside of having a skeleton IT service provider is the billable hours for any extra service, such as tech support calls and on-site repairs, which can lead to unpredictable hourly fees that can skyrocket beyond control. An unstable monthly IT expense is the real skeleton in the closet!
Were You Frightened by a Skeleton IT Service Provider?
If you were, it's probably best to do your research on managed IT services providers in San Diego. The last thing your business would want is to be absolutely terrified during the Halloween season! It is really important to know what your business is getting itself into when you are trying to find a good IT service provider.
There are quite a few skeleton services out there in the IT marketing world, and there are fewer IT service providers who can proudly state that they are a strong provider and actually not turn out to be skeletons! Looking for such IT providers can be bit of a daunting task filled with research, but we at Spacelink can provide a local solution to that task.
Consider Spacelink!
We at Spacelink can guarantee that we are not a skeleton IT support provider looking to terrorize local businesses in San Diego for Halloween. We strive to work as best as we possibly can for your business and provide excellent managed services for businesses in the San Diego area. Any service ranging from a full business assessment to hosting dedicated servers, you can count on the professionals at Spacelink to assist your business promptly and efficiently. In the end, try your hardest to have your business evade any managed IT services in San Diego with skeletons in the closet.
If you are interested in our managed services, or are just interested into learning more about IT services, please visit our site at https://www.spacelink.com/!