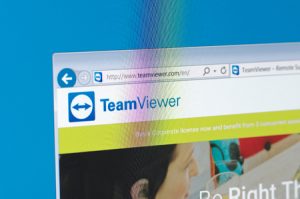 In this article, we'll discuss whether or not TeamViewer is right for your business. We're a business providing IT support in San Diego, and by the end of this article, you'll have a thorough understanding of TeamViewer and whether or not it suits the needs of your business. Let's begin.
What is TeamViewer?
TeamViewer is an application that allows one to take control of another's computer. It's a program used to remotely access desktops, essentially, with the caveat being that both parties have to be OK with it and signed up to use TeamViewer before they can. TeamViewer is completely free for personal usage as well, but charges businesses for the service. Paying the extra amount also allows businesses to gain access to more features than offered by the free, consumer counterpart.
In addition to the base feature of desktop sharing, TeamViewer also offers the ability to host meetings and presentations, alongside video calls and group chats.
What are the Benefits?
The main benefit of TeamViewer is in its sheer utility as an IT support tool. Many businesses providing IT support in San Diego use TeamViewer or an alternative for this reason: the ability to take control of a user's desktop from any location saves a lot of time and headaches that would otherwise be lost by attempting to explain the exact process of what they need to do. Sometimes, just taking control of the desktop and doing it yourself is a much easier solution, and that's a huge benefit for IT support employees who need to complete their job as quickly and efficiently as possible.
Additionally, TeamViewer's group voice, video and text chats can offer value to businesses searching for a better meeting tool.
Is There a Reason I Shouldn't Use It?
Well, not really. The price may be intimidating for smaller businesses, but the TeamViewer application itself is fairly powerful and has been in use by IT professionals for over seven years. It's a staple of IT support applications and continues to receive developer support to this day.
However, there was a security incident that happened a while ago that's worth discussing.
What About That Security Incident?
In June of 2016, TeamViewer was disrupted by a Denial of Service attack and a simultaneous hack. Or, at least, many user accounts were compromised thanks to major leaks of information from other social media services. TeamViewer claimed no responsibility for the incident, said they saw no indication of their systems actually being breached and explained that many of their users use the same password across multiple sites and services. So when their accounts on other sites were compromised, hackers were able to try the same password against their TeamViewer account which, in many cases, succeeded.
In the year since no research has indicated TeamViewer was at fault for the breach. Users simply need to have better security practices, including stronger, more diverse passwords across various platforms.
Learning More
Here at SpaceLink, we can help you make smart decisions for your business. Whenever you need IT support in San Diego, click here to contact us for a free consultation! You can also read our blog for more informative articles like this one.